GALLIFREY
The best band in the world ever?...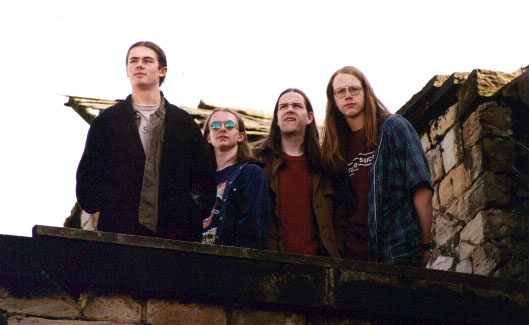 ...Definitely!!!
This is Paul's first band. From left to right we have :
Carl Taylor : Vocals & Guitar
Paul Bielatowicz : Stunt Guitar
Lee Rogerson : Bass & Groans
Danny Smith : Drums & Strobe

"Everybody has hazy happy memorys of hot summer's days spent doing crazy stuff, well, this is one of mine. We decided to have a photo shoot in a discarded cotton mill which was next to the studio where we used to practice. The mill was surrounded by a barbed wire fence, which we had to scale to get in. Once inside the perimeter fence we eventually found the only way into the building - a pitch black hole at the bottom of a burnt out staircase, it led to the basement area.
This photo is one of the many taken that day, others include arty open shutter exposures of varying success! and a selection of band members being hung, all nice summerie pictures!!!"
Gallifrey were by far the finest band ever to grace Burnley and Nelson with their presence. If you never managed to catch one of their legondary gigs then there's still hope, talks of a reunion gig have taken place but ,as yet, nothing is planned... watch this space.
There are a number of live and studio recordings which are now very hard to come by, but if you're not one of the lucky few to own one of these recordings and feel that you really need to hear a copy (and you do, trust me!!) then you can e-mail Paul at pab777@yahoo.com