Lovely Goldern Locks
Look at this picture of Paul very carefully ... notice anything strange ?...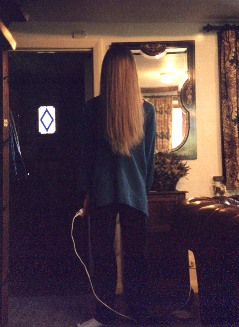 ...He's looking right at you!!!
That's right, this is a picture of Paul before he got his hair cut, and yes, he is facing the camera. He now has shoulder-length hair with multi-coloured dred locks - woh!!!
"The long hair got in the way of my guitar all the time. I watched a video of Dave Brons and me playing the Attitude Song, and I looked like a Hanson kid. I think Hanson are one of the coolest bands out at the moment, by the way, but that wasn't really the image I was trying to portray - so I decided it was time for a change. Another thing was that I started to get sick of being mistaken for a girl. When I went in a public toilet, more than often some guy would say, 'scuse me love, this is the gents' or words to that effect. It was cool for the first year or so, but I guess I just reached the stage in my life where I needed to be identified as a bloke!!!"
As soon as a photo of the new Bielatowicz hair style is developed, then we'll post it here.